Cherokee Indian Crafts


The Cherokee are proud craftspeople whose unique artistry conveys a personal link to their ancestors dating back over 10,000 years. Blocks of wood are shaped into ceremonial masks, stones are carved to tell legends, and strands of rivercane are woven into beautiful baskets.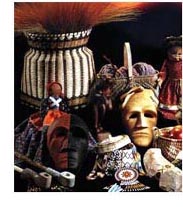 Cherokee crafts are displayed in the Smithsonian and have graced tables in the White House. In demand throughout the world, some are already priceless, while others grow in value each year.

There are about 500 Cherokee craftspeople whose products are sold through the Qualla Arts & Crafts Mutual and other stores by the Reservation. The new Harrah's Cherokee Resort Hotel is fully decorated with Cherokee Indian art.


Each mural, painting, and other art was created by a Cherokee Indian on the reservation. Today, as in generations past, each item is handcrafted with great pride.




How to Make Cherokee Clothing

Donald Sizemore
A comprehensive volume of detailed instructions and illustrations on how to make Cherokee clothing, head dresses, hair styles, and ornaments for both men and women. Methods of cutting and piercing the ears, the use of body paint and tattooing, as well as sources for project materials and supplies are given.